Empowering you to live your best life
We provide telehealth therapy and counseling services in Texas that equip you with tools to better manage anxiety, cope with life changes and stressors, and create positive personal growth!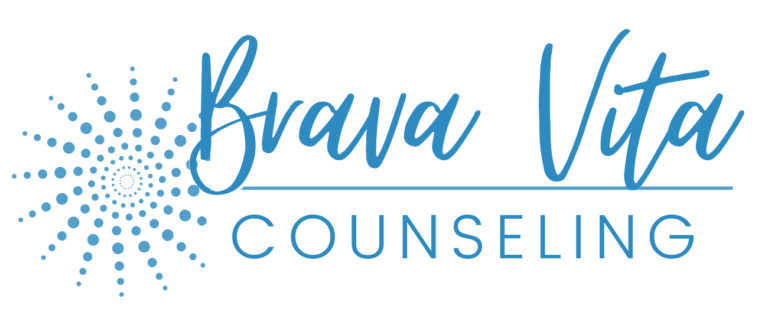 Looking for a supportive, healing space grounded in your goals and needs? We provide teletherapy and counseling services in Texas that draw on your unique strengths and personal values.
Don't let anxiety, worries, and life stressors keep you from living your best life.
Challenging, stressful experiences can be overwhelming. This is especially true for those of us balancing work/life and a number of responsibilities. You might be coping with anxiety, loss, or unexpected life changes. Or maybe you're yearning for deeper meaning in your relationships or career. 
These are all very important concerns, and you may be feeling lonely, worried, and unsure of what next steps to take as you face them. And this is where we often get "stuck". Often, self-doubt and worry keep us from recognizing our own strengths, values and potential.
But you don't have to face these challenges alone.
How we can help: live well, live bravely!
This is why, at Brava Vita Counseling, we empower you to make positive changes in a supportive, therapeutic space. This means that we walk alongside you on this journey of growth and exploration. And together, we'll work to build personal insights and helpful coping skills that help you better manage life challenges.
Most importantly, we embrace a collaborative approach to care. This means that you are the expert of your lived experience. And that helps us draw on your unique, amazing qualities to help you live well and live bravely!
Finally, we believe that you should have convenient access to quality care, wherever you happen to live in the state. That's why we provide telehealth (online) counseling in Texas, including the San Antonio and Austin metro areas.
What we do: Counseling services in Texas
We provide three service options for you to choose from, depending on your needs and goals for care.
Psychotherapy: Treatment for mental health concerns like anxiety, panic, and anxiety-related disorders. 
Personal Growth Counseling: Support with personal

exploration and growth, adjustment to life changes, and finding personal fulfillment in day to day life.
Health & Wellness Counseling: Brief counseling and support around concerns related to health or medical issues, including chronic pain, insomnia, and overall health and wellness.
We serve adults and welcome everyone from all walks of life! We are also especially experienced in helping:
Graduate and professional students coping with stress, anxiety, perfectionism, health concerns, or imposter syndrome.
Early career professionals and helping professionals struggling with work/life balance, relationship concerns, health concerns, or burn out.
Creative professionals, researchers, and creatively-minded individuals experiencing a disconnect from their passion, relationships, or identity.
The heart of our practice is in helping clients on their personal journey towards living a meaningful, fulfilling life!
We provide convenient online therapy and counseling services in Texas, including the San Antonio, Austin, and the Houston metro areas.
Flexible hours, including evenings and weekends, so you can choose a time that works best with your schedule.
We currently offer several services to support you on your personal journey.
These include therapy treatments (psychotherapy), personal growth counseling, and wellness counseling.
Your counselor works with you to identify goals for positive changes you want to make. 
Together with your counselor, you'll create a plan for care that supports you on your path to living your best life.
Anxiety, Panic, and Anxiety-related disorders.
Life Transitions, including coping with the loss of a loved one, career changes, and personal relationships. 
Wellness counseling, including living with chronic pain, insomnia, and stress management.
Iris Cahill Casiano, PhD
Licensed Psychologist, Texas, No. 38704
"Counseling can empower you to make positive, meaningful changes based on the personal values and goals that matter most to you. We all possess unique strengths and resilience, and the therapy process is about discovering and tapping into these qualities in a supportive space, free of judgment. Joining with you on this journey of discovery, you and I work to build skills and gain insights that support you in living your best life."

Areas of Clinical Specialty: Anxiety, panic, OCD, trauma, insomnia, chronic pain, adjustment to medical/health concerns, relationship concerns.

*Bilingual counseling services available in Spanish.
To learn if counseling may be right for you, please email, call or schedule a complimentary 15-min consultation.